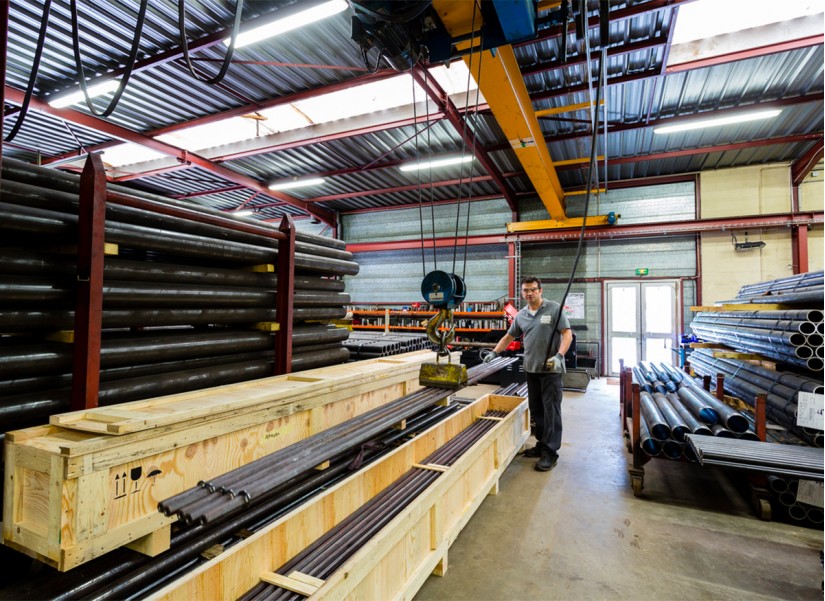 ADDITIONAL information
Apageo was founded on solid human values, favouring listening, sharing experience, passion for the Technique and the desire for quality work. The company's organisation has continually evolved to keep pace with its internal and external developments in its three manufacturing and marketing divisions: Machinery, Drilling Equipment and In Situ Measuring Equipment.
The material and human resources, the unrivalled stock and the quality approach make Apageo the optimal partner for all your drilling and geotechnical equipment needs.
Human and material resources
Since its creation, APAGEO has never ceased to expand its offer and develop its know-how to be as close as possible to the requirements of the field. Always a driving force in its field, APAGEO invests heavily in Research and Development and devotes a significant portion of its results to the constant improvement of the production tool.
APAGEO's teams are organised by competence area through the different internal departments, all working together in direct link. All these departments are spread over 3 sites, with the total material resources spread over a total area of more than 7500 m² of workshops. The staff includes a total of 80 people with all the necessary skills to ensure the manufacture and marketing of equipment:
In-situ hardware service and data acquisition system
Drilling machine service
Production workshop for drilling equipment
Design and methods office
Warehouses for stocks and order dispatch
Commercial Department
Marketing Department
Procurement / Purchasing / Accounting Department.
MATERIAL RESOURCES
DESIGN AND ENGINEERING OFFICES
1 CAD station (Computer Aided Drafting) with SOLIDWORKS
2 CAD (Computer Aided Design) stations with SOLIDWORKS + COMPOSER
1 CAD (Computer Aided Design) station with AUTOMOTION STUDIO
3 workstations with Autocad CAD and Logitrace CAT software
1 Plotter A1
1 A0 plotter
1 Thermal printer for signs.
PRODUCTION, ASSEMBLY AND FINISHING
10 digital towers including
1 Integrex 8-axis robot
2 lathes equipped with robot with automatic arm for placing the raw material
3 towers equipped with bar feeder
4 machining centres
1 Dufour milling machine and 2 traditional milling machines
2 traditional towers
2 mortising machines
2 automatic welding robots for the production of augers
2 Auger coil machines.
Welding workshops
2 TIG stations
2 MIG stations
2 inductive ovens
8 semi-automatic welding machines
3 TIG stations aluminium / stainless steel
1 oxyacetylene welding station.
Workshop equipment
2 band saws
1 metal-cutting reciprocating saw, width 400
1 Adform CN 3m x 16 mm shears
1 Korpleg 4m x 220T CN 4 axis press brake
1 Promécam press brake 2m x 50T
1 roll 2000x3 and 1 roll 2000x8
1 Geka 500 punching machine Ø 40 ep 10mm
1 Fim fixed angle notcher 90° 6mm
1 metal-cutting reciprocating saw, width 400
1 Kaltenbach sawmill Ø 400 bench 6m
1 parallel lathe with 105mm spindle bore 1m
1 profile bending machine capacity L 50x50
1 MAS Ø 70 gooseneck radial drill 1400
1 radial drill FMO 35 Ø 25 gooseneck 700
2 pillar drills and 1 traditional radial drill
2 Remo magnetic drills
1 plasma cutting station 25mm
1 Bombled 15H 2mm
1 Chamfering machine
6 connecting beams of 14m x 0.8m
2 connecting beams of 15m x 0.4m
1 mounting platform 6m x 6m
1 assembly and testing area of 600m².
2 paint booths equipped with Kremlin Airmix low pressure spray guns
2 sandblasters
1 Sandblasting cabinet
1 Marking machine.
HANDLING
3 x 10T overhead cranes with direct access for all types of trucks under the cranes
1 overhead crane of 5T
1 overhead crane of 3.2T
4 jib cranes with 500 kg electric hoists
2 x 3 ton forklifts
1 forklift 1.6T
1 all-electric stacker 1.2T 2.5m.
SERVICE VEHICLES
1 x 3.5T tarpaulin truck
4 vans
2 utility vehicles
7 company cars.
HUMAN RESOURCES
In direct relation with the management team, the staff is composed of
Design engineers
Methods Technicians
Lathe operators
Milling machines
Welders
Hydraulic engineers
Electronics and IT specialists
Warehousemen
Trainers Geological Engineers and Scientific Advisors
Sales Engineers
Technical sales representatives
Sales assistants France and Export
Marketing Officer
Sourcing and Buyer Specialists
Accountants.
The people in charge of after-sales service at Apageo are directly involved in the manufacturing process of the products, which guarantees a perfect knowledge of the equipment. The mobility, professionalism and responsiveness of our teams allow us to offer you an optimal service.
QUALITY APPROACH
The entire production and sales chain (manufacturing, stock, quotations, orders, deliveries and invoicing) is managed by computer within the company to ensure qualitative and quantitative monitoring of our customers' orders. This allows for efficient and continuous control of orders from procurement (purchase of materials and manufacturing) to delivery.
Quality controls of the material are systematically carried out during production and before shipment, they can be carried out under the control of the customer, before reception in our workshops.
STOCK
Reactivity and availability is an essential element at Apageo, which has an unrivalled stock for the vast majority of products sold. These storage areas are spread over 90% ofApageo 's 3 sites and 10% are kept in partner warehouses.
Contact us
Our Sales and Technical teams are at your disposal for any information, quotation or advice. Do not hesitate to contact us.