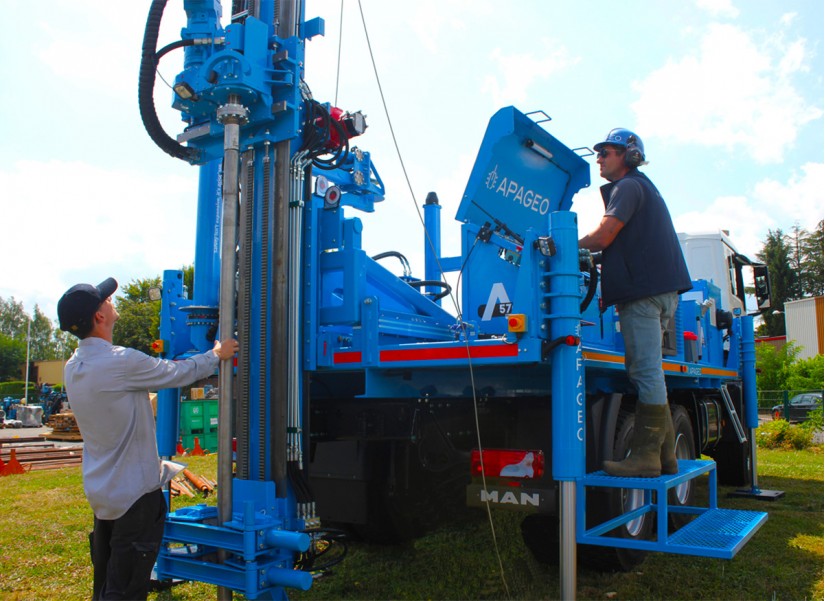 ADDITIONAL information
For our drilling machines with equipment, our In Situ measurement devices and data acquisition systems, and our specific drilling equipment, Apageo delivers training courses in our factory or on site in France and all over the world, in order to best support you in your projects.
Training
Thanks to a team of mobile experts, Apageo can offer you "à la carte" training, depending on your needs and the techniques and methods used in the field. Different formulas are possible (all-inclusive, or part of the journey/stay paid for by the client, etc.) in order to best adapt to your wishes. The client can choose to focus more on certain equipment than others, depending on the needs of his teams. The service can also be subject to a technical audit beforehand in order to evaluate the level of equipment used and the level of qualification of the operators.
For a few hours or several days, our specialists make their skills available to provide you with adapted training for any level of learning (beginner, refresher, deepening of skills, etc...).
The training courses can be given in French or English. They concern :
All our Apafor® machines
Our Apafor® Heavy Dynamic Penetrometers
Our Static Penetrometers and CPT Mechanical and Electrical Equipment CPTu
Our in situ and data acquisition equipment: Pressure meters (manual and automatic), GeoBOX®, Geospad®2, Explofor®, Apadyn®, Geovision®, Phicometer, Lugeotest®, PDL
Our drilling and coring equipment, including specific equipment such as STAF®, STAR, etc.
Laboratory equipment: training provided by our partners
For all machine purchases, a "getting started" session is systematically delivered when the equipment is collected from our premises (raising the operators' awareness of safety measures + familiarisation with the machine's basic functions).
Do not hesitate to contact us to define your training needs together.
Contact us
Our Sales and Technical teams are at your disposal for any information, quotation or advice. Do not hesitate to contact us.